laparoscopic instruments for
robotic surgical system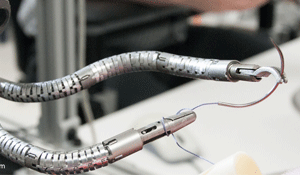 At Ximedica, I was part of the small laparoscopic instruments team on a large surgical robotics project. My main contribution
Improved prototype design through lens with a focus on ability to be cleaned and sterilized between surgeries. Created functional test protocols, oversaw execution of testing at external vendor, analyzed results and redesigned parts and assemblies.

Redesigned all components for mass manufacturing processes including metal injection molding, plastic injection molding, and high precision machining.

Selected materials and worked with vendors to create custom plastics to meet requirements such as biocompatibility, high lubricity, and wear resistance.

Created the instrument assembly process including design and fabrication of fixturing.
​
Please note that I am including limited photos and information here to adhere to NDAs with Ximedica and our client.​
For more information:
Ximedica: Minimizing Patient Recovery Times and Costs with a Mobile, Precise Robotic Surgical System